Reading Time:
3
minutes
After a couple of sluggish years, big cities in the United States are making a comeback in the short-term rental industry, helping boost the number of nights stayed across all U.S. markets to record levels. Average occupancy rates in the 50 biggest metro areas rose more than 5% in the first half of this year compared to last year, according to AirDNA's new mid-year short-term rental outlook report.
"Now we're in the recovery phase for cities," says Jamie Lane, AirDNA's VP of research. "Last year we saw almost no recovery in urban demand. This year, in 2022, we're now seeing the recovery of urban demand, which is pushing occupancies higher.
"We're still not back to the 2019 level, but we're well on the way to recovery now," Lane says.
AirDNA breaks down major metro areas into suburban areas and urban cores.
Suburban rentals have led the return of big-city demand, fueled by longer-term stays of 28 days or more. In contrast, demand for urban centers was 21.6% lower in the first half of 2022 than 2019 levels. Urban occupancy in that period was also down 2.2% from 2019, making inner cities the only U.S. location type with occupancy still lagging pre-pandemic levels.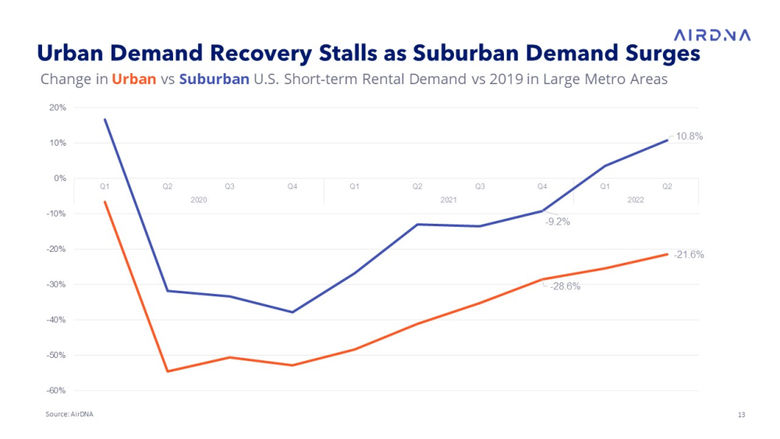 "People are still largely avoiding the center cities, but the demand in suburban areas is almost 11% higher than in 2019. It really points to a different use case of short-term rentals – of people traveling to more residential areas of cities," Lane says.
"We're still a ways away from full recovery," he says. "We do think we're going to get there, but it's not going to be until the end of 2023 that we expect demand to recover in urban areas."
Across all locations – coastal, rural, small city, mid-size city, big city and mountains and lakes – demand for short-term rentals in the U.S. is projected to climb an average 20.3% from 2021 to 2022, exceeding the 14.1% increase AirDNA predicted last fall.
Global leader
Short-term rental demand in the U.S. has outperformed all other countries around the globe, aided by the fact that the country generates most of its demand domestically, Lane says.
Urban recovery will be fueled by the revival of international demand – currently still about 50% below 2019 levels. Lane says urban recovery is expected to return to pre-pandemic levels by the end of 2023.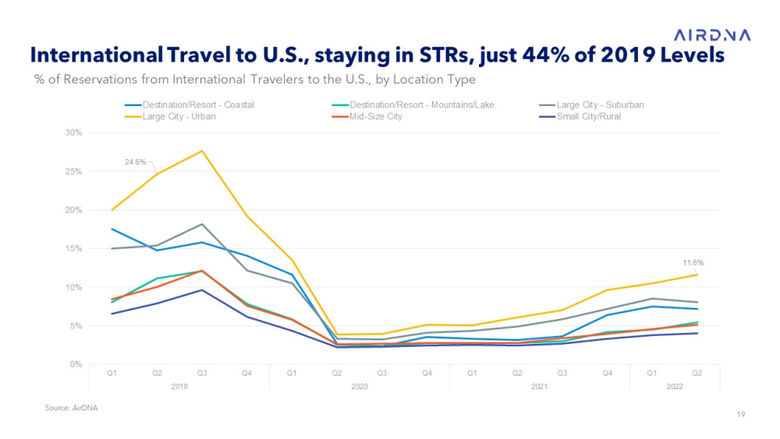 But the turnaround has begun: For the first half of this year, international demand exceeded 2021 levels across all U.S. location types. International demand is most noticeable in urban areas, where it accounts for 12% of all reservations.
"There's still a long way to go to bring back all [international] travelers, and most of them, when they come, they're going to be coming to the major cities," Lane says.
Inventory projections
Despite economic headwinds, new listings on Airbnb and Vrbo accelerated in the first half of 2022. AirDNA projects that available U.S. short-term rental listing nights will increase by 23% this year over last year. And U.S. occupancy growth in the first half of 2022 exceeded 2019's level by 7.5%.
The risk of recession is expected to drag down demand for short-term rentals to just a 5.7% increase in 2023, about a quarter of 2022's demand growth. AirDNA also expects supply growth to slow in 2023 due to higher home prices and rising interest rates. This year's projected 58.2% occupancy will fall slightly in 2023 to 57.4%, which still exceeds pre-COVID levels of 53%.
"A lot of 2021 and even 2022 was still COVID recovery, and you could see a lot of growth for this year as being driven by the recovery of urban areas," Lane says. "As we push into 2023, it's going to be much less recovery and much more organic growth of demand for short-term rentals.
"Yes, growth rates are slowing, but growth rates are generally going to be slowing across all aspects of the economy."
On average, listings are expected to earn only 2.1% more revenue in 2022 compared to 2021.
"Essentially, we've seen revenue growth plateau and the cost of acquisition of homes grow substantially" due to rising home costs and rising interest rates, Lane says. "That leads to lower profit potential for new home acquisition."
AirDNA will be compiling a similar report on demand and outlook for short-term rental markets in Europe later this year.